Shawn Ward is a transplant from the white winters of Canada and has been in Bangkok for the past seven years. He loves the way of life here and hasn't been back to North America in the past couple of years. We sat down and talked a little bit about his time in Thailand, his recent injury and his life he has made for himself here in Bangkok.
So Shawn – Where are you from originally?

Toronto, Canada.
How long have you been pushing a skateboard for?

Since I was about 13 or 14.

How long have you been living in Bangkok for?

I came here for the first time when I was 17. Some friends and I decided to go backpacking for three months. When I got here I fell in love with the life style right away, so I stayed.

What brought you here in the first place?

My friends and I came into some extralegal funds and decided to travel. We threw a dart at a map and it landed on Thailand, so away we went…

What do you enjoy most about living in Asia compared to living in North America?

There is no comparison, but I do enjoy the full time skate weather and the convenient life style.

What are the main differences in lifestyle amongst the average person in the two different continents?

Haha, punctuality for one. Being consistently 20-30 minutes late for everything is accepted here(Thai time) where as that shit gonna get you in trouble back home. There are too many to mention, come live it for your selves and see.

Do you miss anything from back home?

My friends and family! Miss and love you all. And snow, haha.

What is your favorite thing about Bangkok or Thailand in general?

Bangkok huh, the traffic! Nah, I love the language really. When I first started understanding it I became more and more interested in all its slangs and dialects. Thai is a fun language.

How long have you been an ESL teacher for?

Since 08/09 – something like that.

What do you enjoy about it?
I enjoy almost everything about teaching really (except waking up early). It's a fun job that keeps me learning as much as I am teaching. I don't hate anything about it but I do get frustrated with how external it can all be sometimes. Like how it is more important that you wear your suit and neck tie then how well you actually do your job. I would rather roll up to school in my jeans and t-shirt.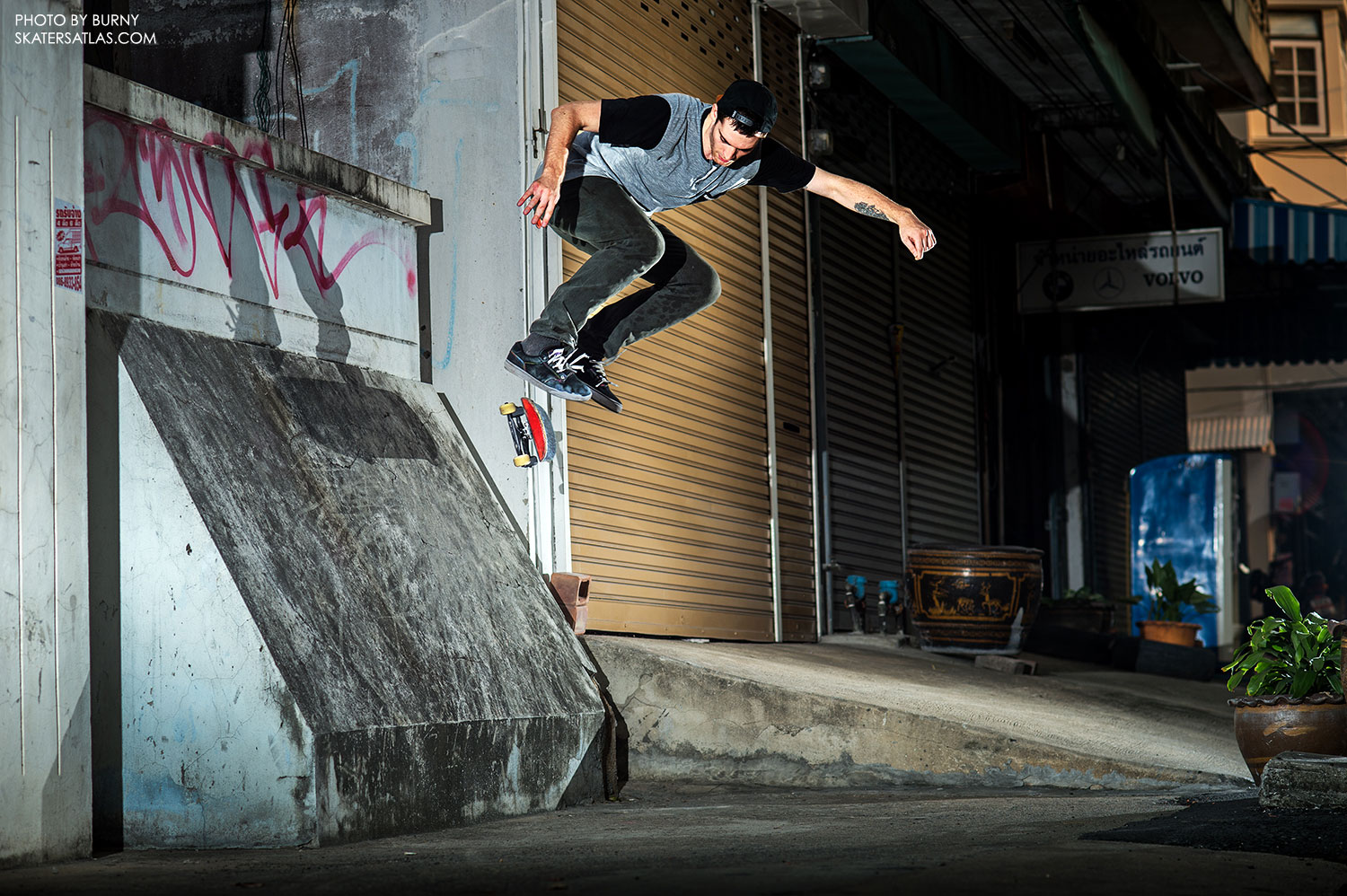 You have filmed this part in just about three weeks. Were you shredding this hard back in Canada or did you really start pushing your self on a skateboard once you got to Thailand?

I skated everyday when I lived in Canada and I skate everyday now. Nothing changed.

What is it about the process of searching for spots, skating and getting clips that makes you so motivated?
You have been eager to get out every day and that is something really special, especially when trying to make something of value in such little time. 
It is motivating to be around people who are down to go out and search out spots and get clips every day. My homie Sterling and I have been waning all over BKK since I got back on my skateboard here in Thailand, never going to the same park two days in a row and always searching out street spots. I saw SKATERSATLAS.COM as a great opportunity to get shit done.

What do you think about the weather in Thailand?

Sunny all year round! Except for the intense hot season, the heat can get difficult to deal with at times, to say the least.

Is it hard to get used too it for skateboarding?

The heat? Seven years here and I am still not used to it.
You just got off of recovery time right? Tell me about what happened and how long you were out for?

I tried to nollie lip a hand rail and got sack pretty bad. Tore my urethra. Landed on the rail in that space between your anus and balls, so I got lucky really. I didn't pop a nut or caused any muscle damage, just crushed my urethra between the hand rail and my pelvic bone. Went into surgery an hour later – a five hour surgery. Had a supra-pubic catheter (below your belly) and a foley catheter (pee hole) put in. All in all I had three surgeries and it took six months and 15 days to heal 100%.

Did it change the way you see skateboarding at all being hurt for so long?

I mean I was pretty down during most of the recovery time. It was difficult dealing with the fact that "skateboarding" – something I love so much and need in my life – could do this much damage. But it was also a learning experience and I don't think it changed the way I view skateboarding, no. My close friends and family helped me through it all. They kept my mind in a positive place. I couldn't have done it without them, you all know who you are.

There are tons of Islands all around Thailand, have you done much sight seeing / relaxing or do you pretty much stay in your routine here in Bangkok?

I have been to several yes, my favorites would have to be Koh-Phaayam, Koh-Chang and Koh Phangan. I have been to five full moon parties on Koh Phangan and they just get crazier and crazier. Koh Phaayam is a mellow island with not much to do except relax (puff puff) and enjoy the fresh air and beautiful beaches. Koh-Chang has some fun waterfalls and it's super close to BKK.

What is your love affair with Leo all about?

Leo beer is what's good for breakfast, lunch and dinner. It's just a great beer and I have had countless good times with that golden angle-pussy juice, haha.
"He was a wise man, who invented beer." – Plato

What's the story behind the tattoo?

Haha, not much of a story. I wanted to get the Leo logo tattooed on me, so I did. I got it tattooed over my liver for effect.

Who is your posse? Who are you skating/chilling/drinking with on a normal basis here in BKK?

Lots of people really. I skate with the AGAIN team, the TRICKET team and the Fallen Thailand team because they keep me on my toes and learning new things, but I'm always skating and partying with my friends Levi, Sterling and The P'Jayman. They get down with all the madness. I am always having beers with my roommate Cece at his art studio too.

Who are some of the people that have hooked you up and helped you out along the way since you have been over here?

Oh damn, to many shout outs to remember, haha. Big shout out to all my old-school friends from the days, P'Golf, P'Diow, P'Koi, P'Sho and everyone else for being great friends and for keeping me out of trouble. Big shout out to Toon for getting me my first hook up here in Thailand. All the Muang Thong Thani skaters! P'Beer AGAIN for hooking me up and bringing me into the family. And Levi Adams for filming and editing all kinds of fun times on the plank.
[putting a P in front of someones name is a sign of respect in Thai culture and language)]
Any other shout outs or thanks you'd like to give before we wrap this thing up?

Big shout outs to all my friends and family in Canada, love and miss you. The AGAIN and TRICKET families. Real, Spitfire, Thunder and Fallen. And of course SKATERSATLAS.COM for giving me this opportunity.

Cheers brother, it's been a pleasure filming this part with you. It's the quickest one I've made and I'm proud to have a new Canadian/Thai friend.