Cities like Vienna make people think of really old, cheesy stuff: Sound of music stereotypes and old monarchic nostalgia are probably the first pictures that come to a lot of people's minds. More generally, Austria does remind people of snow and mountains, both of which are particularly not to be found in the Austrian capital. In that sense, skiing and snowboarding would also be easy to think of, but skateboarding might probably come much later in the list of peoples thoughts about Vienna.
In a day and age where the most remote areas of the world get discovered on a skateboard, spots get conquered by professional skateboarders as well as skating travellers, it's gotten common sense that in any larger city something skateable can be found. It's safe to say that you can skate virtually any european capital you will go to, but there are of course differences between the places and Vienna might come as a positive surprise in that way. For sure it´s no barcelona, but for the relatively small amount of coverage it gets in international skateboard media, it has more to offer than one would expect.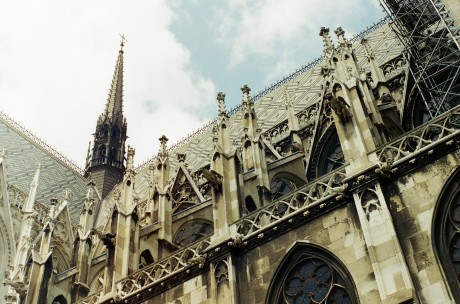 The first thing a Skater notices when visiting Vienna is the perfect ground on the sidewalks. Except for small areas in the first district there are no cobblestones, just really smoth concrete all the way. It´s the kind of ground that makes skating from spot to spot not only possible but a fun part of the session. Trying to find skaters in Vienna can be a little tricky if you dont know someone before coming here, because the scene is not really big. But what it lacks in its size, it makes up in its strength. Nearly all the skaters know each other and once you get in contact you will be taken care of well. This also stems from the fact that there are not a lot of skate tourists that come to Vienna, which means the locals are psyched to have skate visitors.
One of the main downsides of todays Skateboarding scene in Vienna is the lack of a mainspot. There used to be the "Donauinsel" or how the skaters say "Insel" – historically the most famous spot in front of the "Donauinsel" Metrostop. It´s still fun to skate until today, but ist not guaranteed you will meet other skaters there like it was in its heyday. Until the early 2000s this Spot was like the EMB of Vienna. You could meet really good skaters there on any given time of the day, but you could get vibed just as easy if you were not in the posse. This centralized view on skateboarding in Vienna probably had impact on the situation today. People eventually recognized that there is a whole city to be skated and one spot – even if it's as good as the Donauinsel – can get a little boring after some years. The scene today is more focused on the city as whole, which means its more spread all over the place.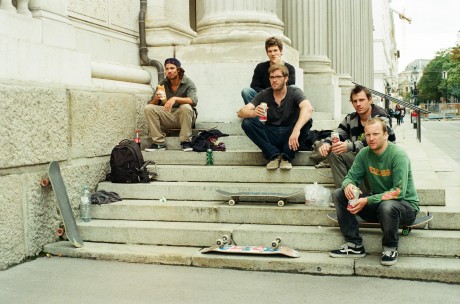 Like a lot of other cities Vienna has been hit by the DIY hype and thanks to some amazing guys there are new concrete spots popping up regularly. But DIY spots don´t last forever: after one of these spots gets bulldozed, another one gets created. If you are cool with the locals they will surely give you some info on how to find the latest go-to ghetto-spot.
Streetwise there are also lots of spots – mainly curb spots, but you have the occasional gap and stairset as well. Unfortunately, there are not a lot of banks to be found in Vienna. A good thing about street skating here is that getting kicked at spots happens very rarely.
If you want to skate in Vienna, don´t plan to come during winter, because it just sucks. The bad weather can really make you feel depressed and the only indoor skate facility (skatearea 23) is not bad, but it´s pretty small and gets crowded very easily. Viennas Skateboarders are trying to improve the situation at the moment but have yet to succeed.
A good point to get you started is visiting a Skateshop. The guys at Stil-Laden, Fame Boardshop and Freedom Skateshop are cool and down to help you out.
You won´t regret coming to Vienna if you go there during summer time. Once you have arrived, stereotypes of an ancient, mountain, sound of music-hellhole will disappear quicker than you can drink a cup of melange.
Written by Reini Woditsch