Mexico City is an exciting place full of life and new experiences every time you leave your house. With just over 30 million people in the area, Mexico City is one of the biggest cities in the world. Even one of its suburbs is in the top ten cities in the world population wise. Everyday when I would go out skating, I would wear my 35mm Minolta on my neck like usual. I keep it on there because you never know what your going to see happen in front of you, especially in a place like D.F..
For those of you that don't know (I didn't prior to my stay) that Mexico City is a lot like Washington DC, in that it is its own state and separate from other states of the country. DC is District of Columbia and DF is Distrito Federal. The big difference is that Mexico City has about 6 times as many people as Washington. There is also a much greater economic divide in Mexico with no social safety net and some of the richest business men in the world. Some of these pictures represent that and some of the things that I saw as I was out in the city. The shot of the people getting shots in the subway is a pretty raw one to me. It doesn't represent poverty or anything like that. I just thought it was crazy such for a long line in the metro for what was probably a flu vaccine or something like that. I also have a couple of years long fascination with taking pictures of people sleeping on public transportation. It is usually because people have worked so hard during the day and are so used to the ride home that they fall asleep and count the stops in there head.
The two dogs that posed up on two blocks,they were there when we arrived to the spot, stayed there for an hour perfectly posed and were still there when we got back to the car. The trees in the picture give you an idea of how a lot of the humongous green parks in the city look like. The city would be even crazier with pollution if it wasn't for all these huge green monsters in all of the city parks. In the nice part of downtown/residential areas around the center, sometimes there is so many trees that it is almost dark on the streets with all the shade.
El Centro in Mexico City is a very unique place. With architecture dating back to early Spanish colonies and a mass of tourists, you're always guaranteed a bunch of strange and interesting sights within the streets of this district. I shot a couple photos there on Dia de Muertos and a couple came back pretty good. In one of them you can see the alivriques, huge sculptures of different crazy creatures and objects made around the festival and displayed in some of the major avenues. I also shot a picture of this coyote-like dog that was hanging out at one of the museums in the center.
One of the first things I realized when my plane landed in Mexico City, was how hard it was going to be to capture the feeling of this city on film. There is so many different kinds of areas and elements that it would take a full-length movie just to give you an idea of all the different types of scenes you could see in Mexico City on any given day. I was honestly overwhelmed trying to figure out how to capture the good and the bad, the clean and the dirty, the rich and the poor and all the in-between. There are so many crazy markets and public spaces with thousands of people walking around at each one.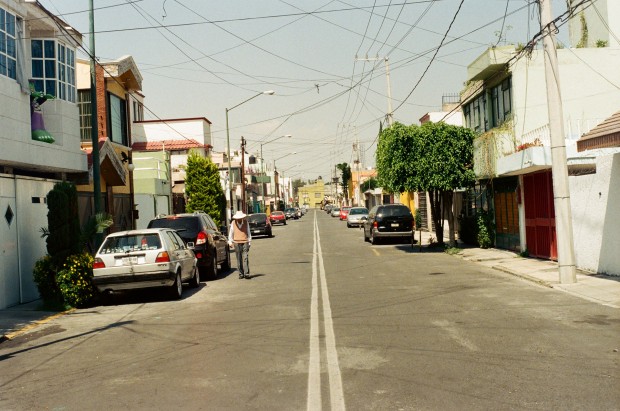 Mexico City is full of both good and bad things. As it is one of the biggest cities in the world, everything is the most extreme it could be. The most extreme traffic, girls, spots, parties, police. Everything good and bad is at full force, probably the most intense of anywhere you can compare it to. I loved spending two months in Mexico City and I would recommend anyone to go there and check it out. (Try and get friends there first as that will help, but people are nice there so as long as you're skating and nice, you shouldn't have a problem making friends.)